WHO ARE WE?
We are Alain Laflamme and Diane Girouard. We live in Mirabel, Québec (Canada). Situated around the International airport bearing the same name, Mirabel is at the heart of the Lower-Laurentians region. Diane has a job at the Mirabel's Library Service and Alain, at Bell Helicopter's Canadian facility, in Mirabel also. We are the proud parents of two young boys, Raphaël and Émile.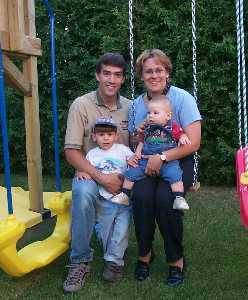 Here is a picture of our family taken in August 1999. On this picture, Émile is 8 months old, Raphaël 2 1/2 years old and their parents, approximately 30...
History
Our collection started in 1989 when both of us were on a photography course. We had a presentation on the history of the camera and the techniques. The next weekend, while roaming the local flee market, we spotted (and bought) a "shoebox with a hole" absolutely unique in the world. Later on, it was identified as a very common Kodak No. 2 Cartridge Hawkeye model C. Since then, we have learned a lot, but the momentum was given. Alain's interest for mechanical devices and technologies, combined with Diane's interest for the heritage and museology make us share the same passion.




| Français | Home | Biography | e-mail | Collection | New | Trades | Help us | Library | Links |